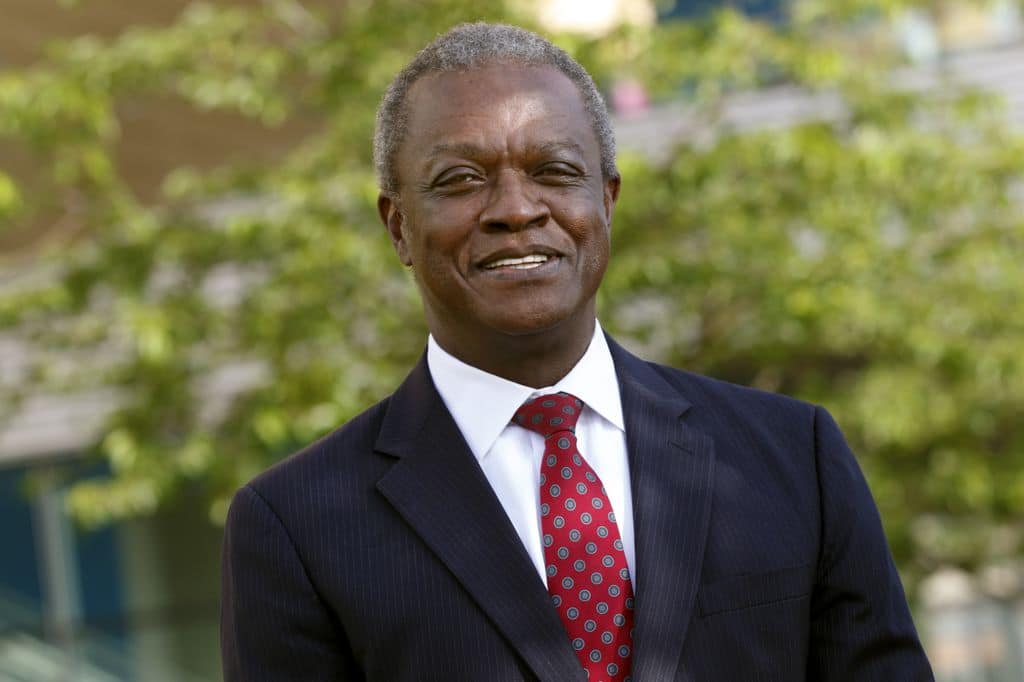 Danny Jacobs
Oregon Health & Science University President

The OHSU board of directors has unanimously approved the selection of Danny Jacobs, M.D., M.P.H., F.A.C.S., 63, as the next president of OHSU. Jacobs, the executive vice president, provost and dean of the School of Medicine at the University of Texas Medical Branch, will succeed Joe Robertson, M.D., M.B.A., effective Aug. 1.
"I am humbled and honored to join this excellent team," said Jacobs. "It's clear to me that OHSU is a special place, deeply woven into the fabric of the community, and by community, I mean all of Oregon's 96,000 square miles. That's very exciting to me."
"My approach has always been about teamwork, collaboration and community. I can't wait to continue the work of improving the health and well-being of all Oregonians, but I know my first two jobs will be to listen to and learn," he added.
At UTMB, Jacobs is the chief academic officer, responsible for approximately 3,800 employees and trainees for its schools of Medicine, Nursing, Health Professions and Biomedical Sciences. A surgeon by training, Jacobs' faculty appointments at UTMB include professorships in the Institute for Translational Sciences as well as the departments of Surgery, and Preventive Medicine and Community Health. He also oversees the institution's research programs.
Uncomfortable taking sole credit for accomplishments and quick to emphasize the critical importance of collaboration, Jacobs has made significant contributions to UTMB's success, including the completion of a $450 million capital campaign and the development of strategic plans informed by stakeholders across both the academic and clinical enterprises. Jacobs, as one of two executive vice presidents and the delegated head of the faculty group practice, is a principal partner in the UTMB health care system, comprising 681 beds, 77 ambulatory sites and a $2.2 billion annual budget.
His research interests focus on the metabolic effects of malnutrition, stress, infection and injury; nuclear magnetic resonance applications in organ function, bioenergetics and metabolism; and, specific nutrients and growth factors in enteral (by way of the intestine) and parenteral (administered by some means other than oral or rectal intake) nutritional support.
Jacobs grew up in rural Arkansas and education was a priority in his close-knit family, perhaps because his mother was a teacher. An interest in science and a commitment to service led him to attend medical school. He received his M.D. from Washington University in St. Louis; completed his residency in general surgery and fellowships in surgical nutrition and metabolism at the University of Pennsylvania and the Brigham and Women's Hospital; and earned his M.P.H. from Harvard. He previously held faculty appointments at the University of Pennsylvania School of Medicine, Harvard Medical School, Creighton University School of Medicine and Duke University Medical Center.
Jacobs was selected after a months-long national search. According to Wayne Monfries, chair of the OHSU board of directors, the search generated an outstanding pool of candidates.
"The response to the search and the quality of the candidates reflects OHSU's strong reputation and ability to compete nationally and internationally," said Monfries. "The search ended with three remarkable finalists, making our decision difficult."
Each of the three finalists came to Oregon for three days of public and private campus and community meetings. The board reviewed feedback and deliberated before holding a public board meeting and voting to select Jacobs as OHSU's fifth president.
"I'm excited for you all to work with Dr. Jacobs and to get to know him personally, as the board and I have," said Monfries. "He is an exceptional clinician-scientist, and a humble and inclusive leader. We had a long wish list for the next president, and he checked every box."
During his campus visit, Jacobs talked about the challenges facing academic medical centers and the paradox of sustaining enduring institutions while adapting and evolving to achieve future success in patient care, education and research. He also shared the value of engaging with stakeholders across the state to create a shared vision.
"I believe strongly in the values rooted in public academic health centers like OHSU. I believe in OHSU's mission to serve all Oregonians and its strong commitment to innovation and adaptation to meet the needs of the community," said Jacobs.
His transition to Oregon will be helped by his enthusiasm for the outdoors – he is an avid cyclist, and enjoys fly fishing and hiking.
Jacobs is married to Nancy Jacobs, a nutritionist and Oregon State University graduate, with three grown children and three grandchildren.
Since OHSU became an independent organization in 1974, there have been four presidents. Jacobs will be the fifth, following the 12-year tenure of Robertson.
In addition to selecting Jacobs as the next president of OHSU, the board also approved extending Robertson as president through July 31. Robertson retired in October 2017, following a diagnosis of multiple sclerosis. He has served as president, without salary, while the search was conducted.
"I look forward to building on Dr. Robertson's legacy and the tremendous work OHSU has done in collaboration with stakeholders across Oregon to advance innovation in health care from education to cures," said Jacobs. "I want to do the very best job I can for Oregon."
Selected awards and recognitions
National Medical Association Presidential Award
Julius A. Mackie Distinguished Graduate Award, University of Pennsylvania
Recognized by National Library of Medicine in "Opening Doors: Contemporary African American Academic Surgeons"
American College of Surgeons, Fellows Leadership Society, Life Member
Matson Award for Teaching, Brigham and Women's Hospital
Alumni Achievement Award, Washington University – St. Louis School of Medicine
Selected professional societies
Fellow, American Surgical Association
Fellow, American College of Surgeons
Member, National Academy of Medicine (formerly Institute of Medicine)
Member, European Academy of Sciences
Member, Society of University Surgeons
Member, Society of Black Academic Surgeons
Member, Halsted Society
Member, Southern Surgical Association