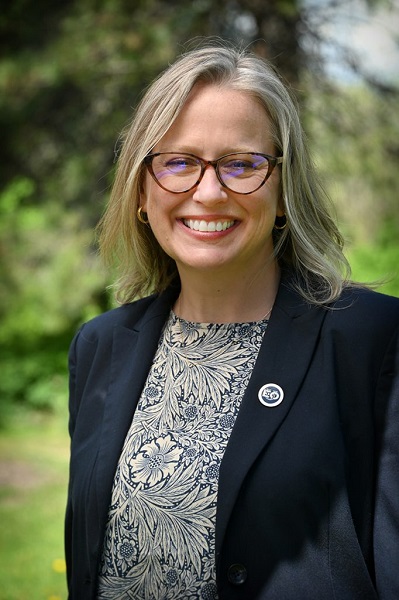 Kelly a. ryan
Eastern Oregon University President

Eastern Oregon University's Board of Trustees voted unanimously to name Dr. Kelly A. Ryan as the University's 13th President on May 9, 2023, and she began her tenure on July 1, 2023.
Dr. Ryan is passionate about the power of higher education to transform lives. Her leadership vision places student success and community engagement at the center of her work.  
Prior to joining EOU, Dr. Ryan was Interim Chancellor of Indiana University Southeast in New Albany, Indiana. In this role, she developed relationships and partnerships to increase community engagement with the institution, and orchestrated efforts to fund scholarships, student research and creativity initiatives, and support resources for faculty, staff, and student development.
Dr. Ryan has led university-wide strategic planning processes, improved accreditation practices, overseen enrollment management, instituted inclusive hiring and teaching practices, and managed the development of academic and noncredit programs and courses. She is the recipient of several awards and distinctions, including the Indiana University Bicentennial Medal and she is a four-time winner of the IU Trustees Teaching Award.  
While at Indiana University Southeast, Dr. Ryan served as Executive Vice Chancellor for Academic Affairs, Dean of the School of Social Sciences, Coordinator for the Department of History, and Professor of History. 
Her first love was the practice and teaching of history, and she is the author of numerous publications, including two books: Regulating Passion and Everyday Crimes.  She has also provided expertise on colonial America to The Learning Channel's popular genealogy program, Who Do You Think You Are?
Dr. Ryan grew up in a military family as the daughter of a naval officer and thus spent her youth living in many locations, including Maryland, Maine, Florida, Virginia, California, and Hawaii.  She and her husband, Adam, enjoy hiking, biking, films, and all the great restaurants they can find.