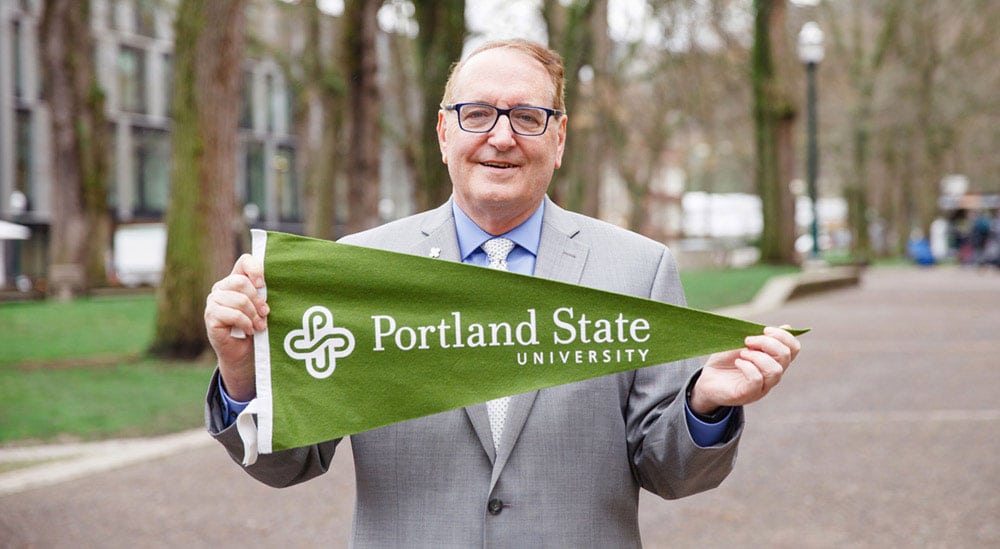 Stephen Percy
Portland State University President

Now in his fourth decade as an educator and leader, PSU President Stephen Percy has dedicated his career to fostering vibrant connections between universities and the communities they serve.
An expert in public policy, administrative ethics and urban politics, Percy is known for his ability to advance civic engagement and create innovative solutions by linking the skills and capacity of universities to the knowledge and energy of communities. He believes in using collaborative, interdisciplinary applied research to facilitate university-community partnerships that solve problems and improve the quality of life.
President Percy has worked extensively with diverse, urban-serving universities, which knock down historical financial, geographic, and socioeconomic barriers to education for students who are low-income, first-generation, and from communities of color. Passionate about promoting educational access for all students, President Percy has been an educator and researcher at the University of Wisconsin-Milwaukee and the University of Baltimore, where he was founding dean of the College of Public Affairs. He joined PSU to lead the College of Urban & Public Affairs in 2014, was appointed PSU's interim president in 2019 and named president in 2020.
President Percy has authored two books about disability rights and civil rights and co-authored four books and the textbook "American Government: The Political Game." At PSU, Percy led several campus-wide initiatives, including the planning process that resulted in priorities and goals for PSU from 2016-2020.
As PSU gets ready to celebrate its 75th anniversary, Percy and his leadership team are renewing their commitment to letting knowledge serve the city, advancing educational opportunity for all, and taking a close look at how the university can expand access by building anti-racist practices and policies.